Jerr.e
The jerrycan. Electrified.
High-tech startup Star Engines needed a concept design of what their motor/generator-in-one technology could look like in an end-use product. The result is Jerr.e: a portable power generator that serves as peace of mind for users of Electric Vehicles (EVs).
year 2015 | client Star Engines & MegaWatt | role design, visualization & prototyping
Jerr.e can be used anywhere, at any time, to charge an EV and extend its range extensively. Within an hour Jerr.e's compact & lightweight engine/generator charges an EV's battery for approximately 50%.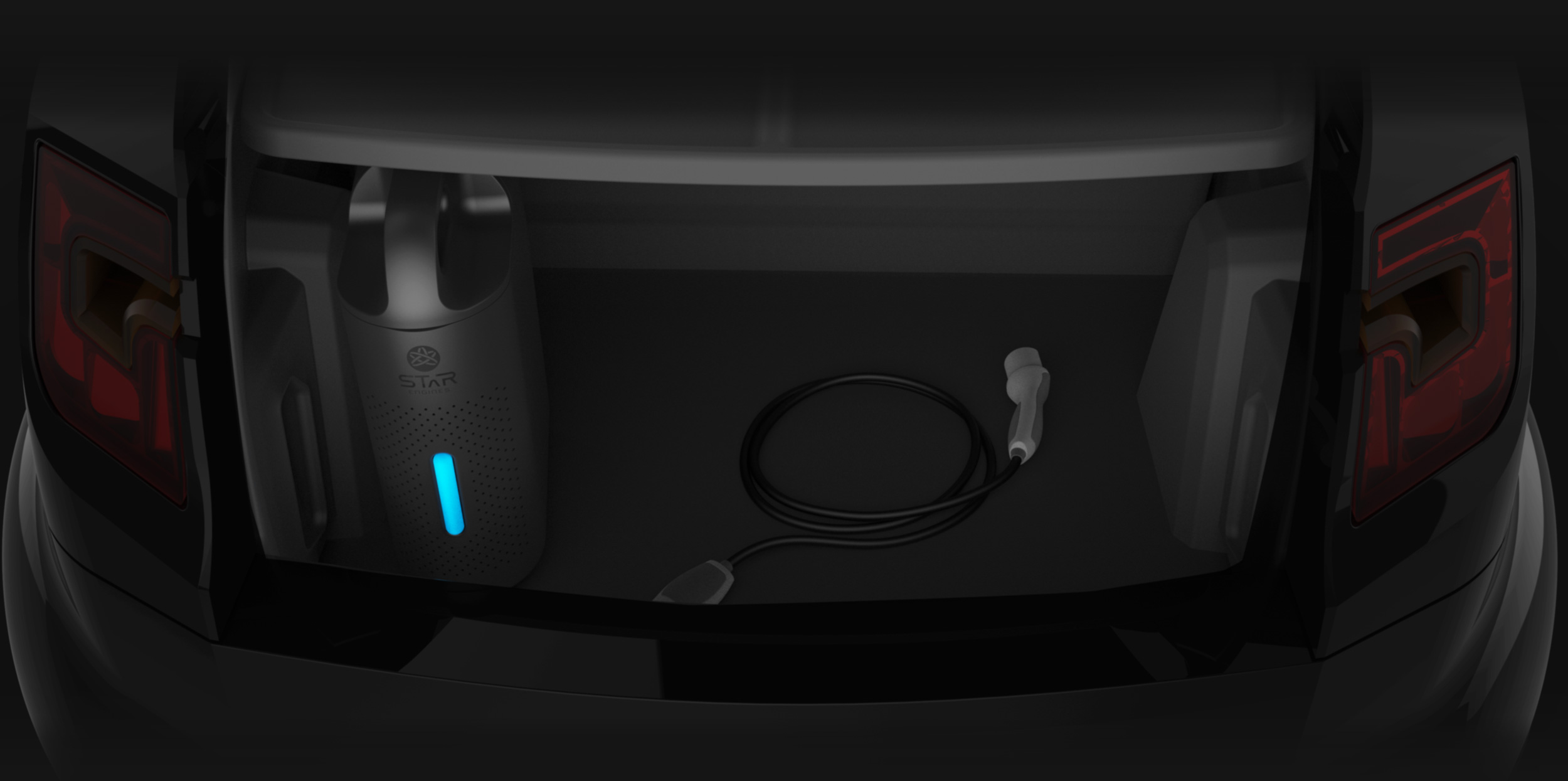 The original brief asked to come up with a solution where the generator could be attached to the weel of a car, so when it is in use, it can't get stolen.
To make the product more user-friendly and technically less challenging the proposal was made to let the charging cable serve as the locking cable (with EV charging the power plugs are held in place mechanically by means of articulated pens within the power sockets).
Letting go of the requirement for a wheel mounted solution gave room for the generator to take on many different shapes and appearances. One of the explored form factors was inspired by the jerrycan (invention of the 'jerries' in the second world war).
After a feasibility check of the ability of the technology to fit and operate in a jerrycan form factor, it became the preferred solution in which to develop the design further. The jerrycan form factor even became the generator's monicker: Jerr.e.
Initially, deliverables would only comprise of visualizations and animations of the concept design. As the process went fluently a physical prototype was added to the deliverables for use in a photoshoot and presentations to the press.
For the creation of the physical model, the 3D CAD model was simplified & optimized for 3D printing. It was then was printed in nylon material through an SLS 3DP process and finished with black gloss and matte paint. To give the physical model a more 'working' appearance an animated LED strip was built into the model.
The timeline from the initial meeting to delivery of the concept design was extremely short. Start to finish, the whole project only took five weeks.